Latest Compscore2 Build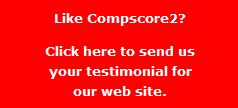 The latest build of Compscore2 was added to this web site on Sunday, 10 February 2019.
Note re January 2019 Windows issue: If you are downloading the latest build in response to an "unrecognized database format" error, please follow the steps on this page before you run the upgraded program.
(Note - this is executable program only, for use by current users of Compscore2. The full program is available as an evaluation here.)
Click here for a list of modifications.